Cozmeena Knitting
Wrapping the World in Love
Welcome to Cozmeena Knitting.
Simple. Relaxing. Satisfying. Restorative. Soul-filling.
Knitting is healthy.
Knitting is a meditation. The sensory experience gained by using your sense of touch (tactile) is the core essence of knitting. Like patting a dog, strumming a guitar or playing with clay, knitting physiologically calms your central nervous system, slows your breathing, lowers your heart rate and taps into the intuitive, creative side of your brain. Quite simply, knitting is good for you.
Knitting is fun and makes you happy.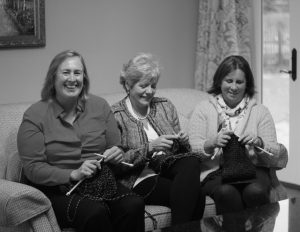 Knitting is a fun and gratifying hobby. For knitters both new and old, the sense of pride, satisfaction and accomplishment felt when your project is finished is pure pleasure. Once you get the hang of it, a new knitter finds that it's so much fun and so relaxing that they want to keep going. Of course it's fun to knit for your self but knitting for others is a different brand of 'fun'.
Cozmeena Knitting is a meditation.
Knitting a Cozmeena project is a portable meditation you can do in a crowd. More and more we hear about the need to quiet our minds; knitting provides just that. Knitting is a socially acceptable act of 'meditation' that satisfies your own needs while still staying engaged with others. Because Cozmeena patterns are so simple, there is no counting, measuring or thinking required the analytical side of your mind is quieted and the intuitive, creative side opens up. This can allow for solutions to arise or to let you just relax and take a break from your daily grind. Anyone who is around a person who is knitting also benefits from the calm energy that she/he exudes. This is the essence of Cozmeena Knitting: To take care of yourself as you take care of others.
Cozmeena –Knitting with a purpose.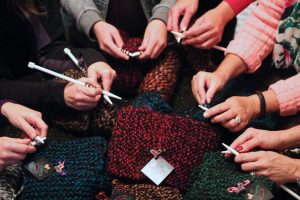 Making a Cozmeena knitting project is that special something you can do when you need to do something but 'there's nothing you can do.' It's provides soul-filling goodness that takes care of both you and the recipient.
While knitting for friends and family is fun, the deepest, most meaningful experience of making and giving a Cozmeena project comes when you knit for someone who is going through a difficult time; a cancer diagnosis, a sick child, caring for an aging parent, etc. You can be called to knit for someone just because you sense they need care. It can be a stranger who's story you've heard or someone you don't know well but feel a compelling need to help. As you knit for a specific person, you are infusing your love and care into every stitch. You are thinking of them with quiet prayers and infusing it with warmth, comfort and care. When you give it to your friend (wrapping it around her), it contains a special magic and is akin to touching God. Every time she puts it on she will feel your love and care. Knitting and caring for others creates a God Wink — a moment of Divine connection.
What makes Cozmeena Knitting unique?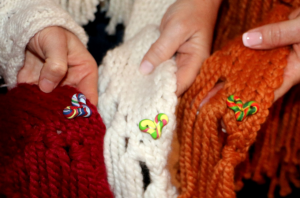 Every Cozmeena knitting project is founded in simplicity.
The patterns could not be simpler; there is no counting or measuring.
But the key to what makes knitting a Cozmeena unique is that Cozmeena projects are knit with a specific person in mind. Whether you're knitting for someone you know or for a group of people in need, the love, thought and caring energy that you feel as you think about them is infused into every stitch translating your warmth, comfort and care to that person when they wear it.
Quite simply, Original Cozmeena's contain a certain, special magic.
An Original Cozmeena item has 3 things you can only get at Cozmeena.com:
A hand-made, one-of-a-kind Pocket Heart button sewn on as the label
A numbered, signed Certificate of Authenticity making it an original work of wearable art.
A listing on the International Cozmeena Registry where you can an upload your story and photo of why you knit your Cozmeena and become a part of our on-line community.
Knitting as a group–The Camaraderie of Women.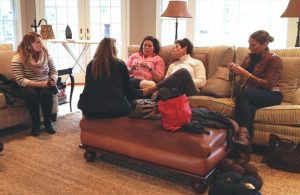 The community of women that has embraced Cozmeena Knitting report a sense of purpose, a feeling of inner warmth and an overall sense of well-being from spending their time in a heart-felt and productive way. It is scientific fact that when women spend time together it releases endorphins and lifts their moods. As we know, it is never good to be too idle or have too much time on your hands. After knitting a Cozmeena project, knitters say they are filled in way that they new something was missing but they couldn't identify it. Cozmeena Knitting is soul-filling goodness that helps you and all the others around you.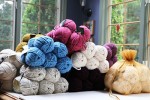 See all of our knitting kits in the Cozmeena Shop.
Check out our Knitting Tutorials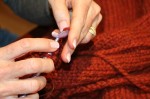 Discover the Cozmeena Shawl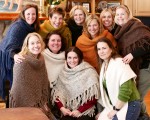 Learn more about Cozmeena Charity Knitting