Cozmeena Enlightened Living, a Fair Haven, NJ-based lifestyle brand centered around knitting for those experiencing hardship, has expanded its local knitting efforts. The knitting ministry, with a mission of healing with the tactile act of knitting and the positive energy that a community of knitters can create, wants to give back to the community this winter.
This holiday season, Cozmeena knitters created infinity and straight-fringed scarves for hundreds of children and adults served by Covenant House Asbury, The Center in Asbury Park (AIDS center and homeless shelter) and Mary's Place by the Sea, a respite center for women undergoing treatment for cancer in Ocean Grove. The effort, led by more than 30 knitters, is now being expanded to encourage others in New Jersey to join.
The idea is to wrap those in need around New Jersey in a caring, loving embrace, figuratively and literally, with a Cozmeena scarf knitted especially for them.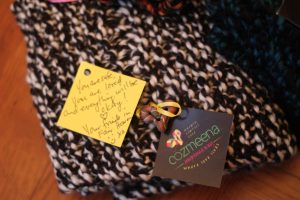 "As each scarf is wrapped around its new owner, they are told 'You are safe, you are loved, and everything will be okay," said Lisa Luckett, founder of Cozmeena. "Cozmeena is a metaphor of the beauty and grace my kids and I received after the loss of my husband on 9/11. Because we received so much from so many, and relative to the magnitude of the event, my 9/11 experience was 90 percent beautiful/10 percent sad because we received so much from so many."
Lisa saw then the strength, beauty and resilience of the human spirit that followed in the years after the attacks. Her family was showered with love and support that continues to this day, and knitting Cozmeena Shawls allowed her to take care of herself while taking care of the women who took care of her. With the addition of Cozmeena Scarves, Cozmeena.com gives people another opportunity to do the same for themselves and those they love.
"Cozmeena is my way of giving back for all we have received," said Lisa. "Now after years of study, I want to share with people tangible, tactile ways to feel better again. Knitting is one of them."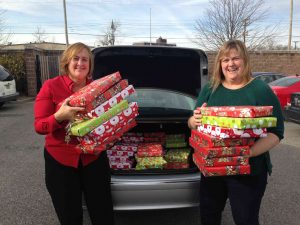 Cozmeena was approached by Cathy Alescio and Marie Noglows of Fair Haven after they spent time volunteering at the Covenant House and saw a need to comfort the organization's homeless, runaway and at-risk youth. Scarf donations were presented to the Covenant House of Asbury Park on December 11. Each scarf is adorned with a Pocket Heart, a small, colorful clay heart button that represents love, support and kindness and makes it an Original Cozmeena .
Cathy, Marie and Lisa want struggling members of New Jersey communities to feel safe and comforted at all times, but especially in the winter. That was the motivation to ask their Fair Haven friends to join in this new knitting group to create infinity scarves to donate to the Covenant House Asbury at-risk youth this year.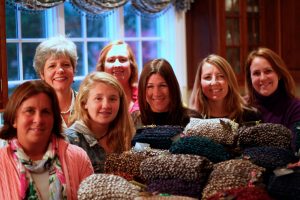 "We've had such a great and overwhelming response that we are encouraging everyone to join" said Lisa. "If you are part of a service or civic group, Cozmeena can set you up to knit for Covenant House or any other organization you have in mind. This is a perfect project for Girl Scout or Boy Scout troops and other youth organizations."
Cozmeena will act as the distribution arm for the seven New Jersey Covenant House programs, and will move to the New York programs as the project expands. The organization will serve as a distribution center for knitters and knitting ministries helping them to organize and connect creators with people in need.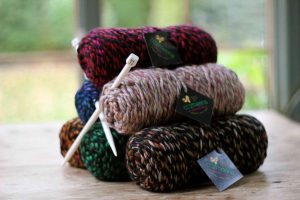 All knitters —never-before knitters and experts alike — are invited to create warm, loving scarves for those in need. Interested knitters can visit www.cozmeena.com, purchase the initial kit for $24 (refills are $12), and begin knitting.
What makes Cozmeena and its mission of giving so unique, is the philosophy behind the knitting: the soothing meditation that comes from the tactile/touch act of knitting, the positive energy of a community of women creating together and the soul-filling goodness of giving something you've made by hand to someone you love and/or is hurting.
"Cozmeena Knitting is a community knitting effort," said Lisa. "It's a new version of caring for yourself, from the inside out. You're making yourself feel better and filling your heart while caring for and personally connecting to another person."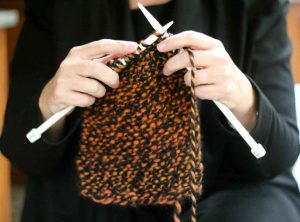 This emotional soul food heals both parties; the giver and the receiver, making it more than just a material donation. There is a magical energy infused in every stitch of a hand-knit item. The recipient can literally feel the love, hope and care that went into making this special gift.
Follow Cozmeena on Instagram at @Cozmeena for wisdom, warmth and connection related to knitters and the people they knit for. For information on how to join the effort, visit Cozmeena.com/knitting.